REVIEW OURSPACE SUMMER CAMP N° 1
From July 26 to July 30, OURSPACE SUMMER CAMP N° 1 was all about being creative and working together!
A wasteland in Dresden became the site of the Republic of Eye. Its democratically established constitutional principles were creativity, neutrality and friendliness and applied to all who entered the camp. As befits a republic, all participants received a passport that had to be shown upon entering the camp in the morning. Also a flag could not be missing, which was already recognizable from a distance! The principles were handwritten in the constitution and the constitutional scroll got its permanent place at the central square of the republic.
This was made possible by Frei.Raum.Direkt, a project of the newly created action field GEH8 urban. Frei.Raum.Direkt. created the content-related and spatial conditions to which we could congenially dock with OurSpace – in the context of our commitment to the cultural education of children and young people.
Despite the hot temperatures on the wasteland, we sawed, screwed, glued, sprayed and built for all it was worth. Under the guidance of our mentors André Tempel and Christian Rätsch, as well as our guest Miodrag Kuč from ZK/U Berlin (Center for Art and Urbanism), everything available on the site was used. Old cover plates of the railroad tracks became signposts for the camp. An old chair without a seat or back was transformed into a functional design object using sticks and foam. This could be found together with a self-built matching table in the Art Space with other art objects. Shards and other objects were declared an archaeological institute, whose origin and function could only be guessed at.
The purple-green installation by the architect and artist collective Umschichten from Stuttgart offered ample possibilities for expansion and restructuring. A wooden board became a blackboard and served as an overview for upcoming dates as well as an archive for past events on the wasteland. It could be populated with new program items by everyone at any time. The colored wooden beams were used for other larger projects. The participants built a bridge with a viewing platform with a lot of physical effort. This created a connection between the camp and the covered part on the wasteland, which is often used for sports activities with boards and rollers. From the remaining beams and slabs it was possible to build an outpost between trees in the shade. This was also urgently needed to escape the hot midday sun.
On the last day of Summer Camp N° 1, parents and friends came to visit and get to know the Republic of Eye. What was built and erected during the camp week? With a big tour over the area and a sporty interlude, which was exercised with wooden beams on the huge open space, the projects could be marveled at and tested. Finally, a cozy exchange was possible at the barbecue, which let a week full of creativity and physical effort quietly come to an end. Everyone looked back on these days with a lot of joy and pride and is looking forward to the two upcoming camp weeks from August 16 – 20 & August 23 – 27.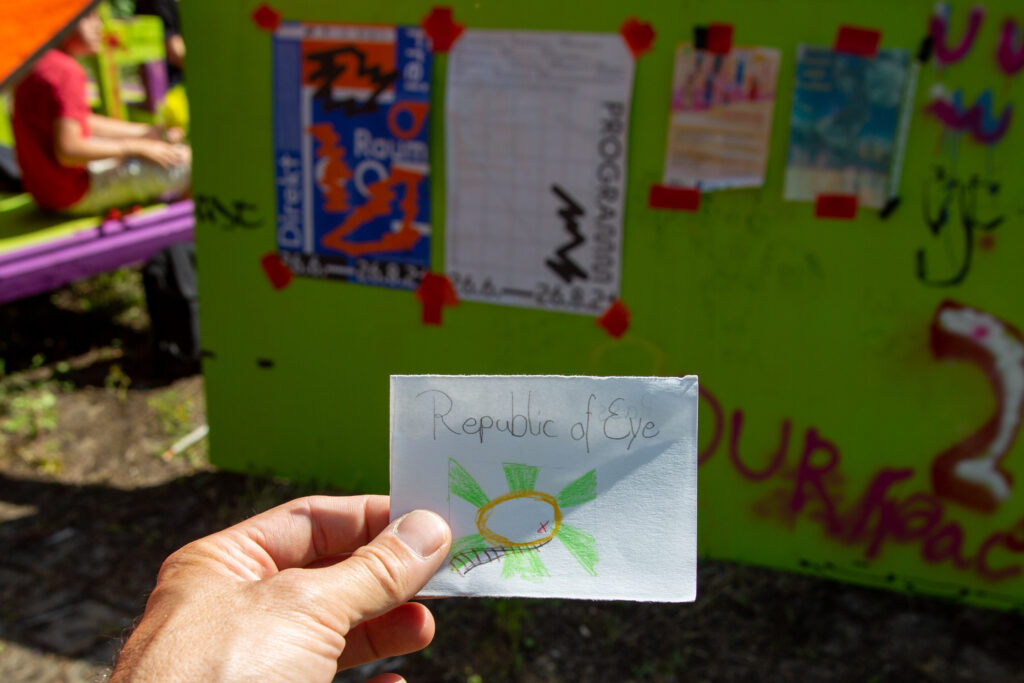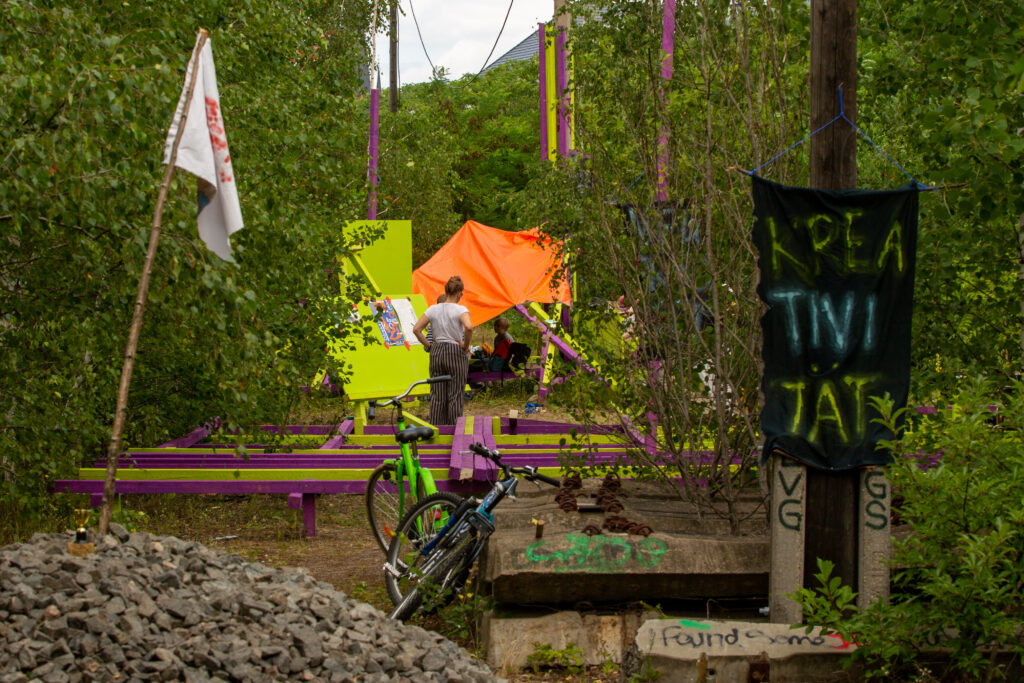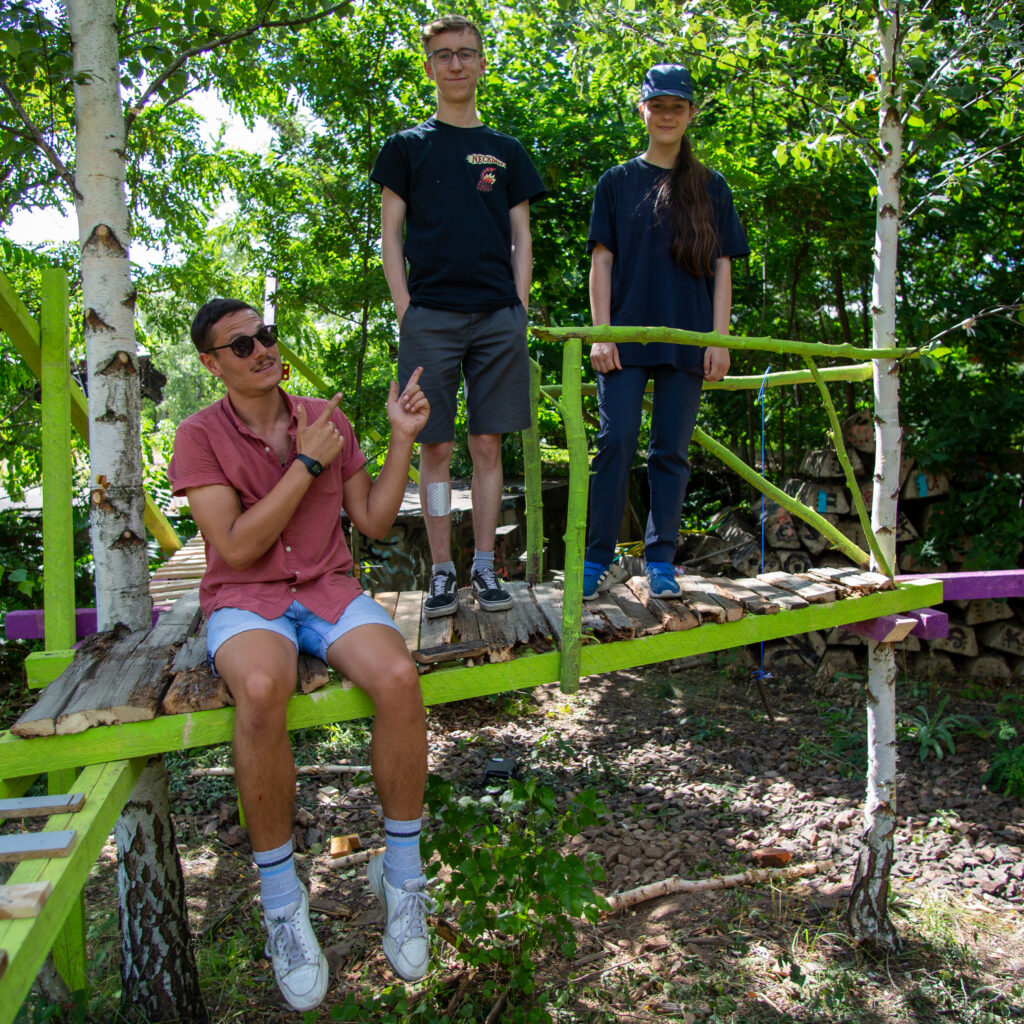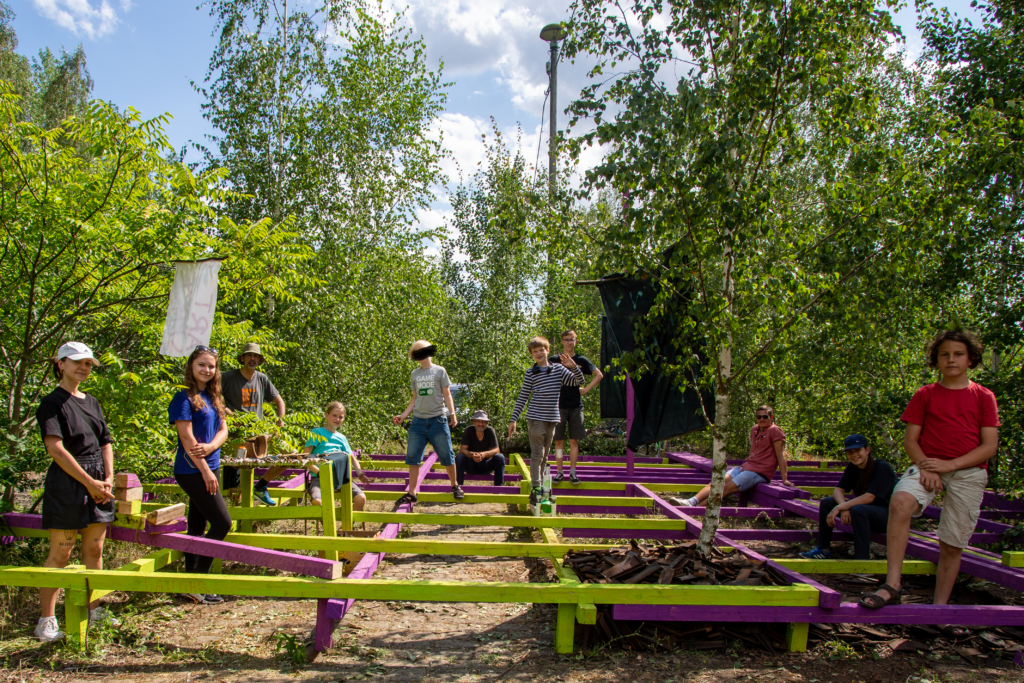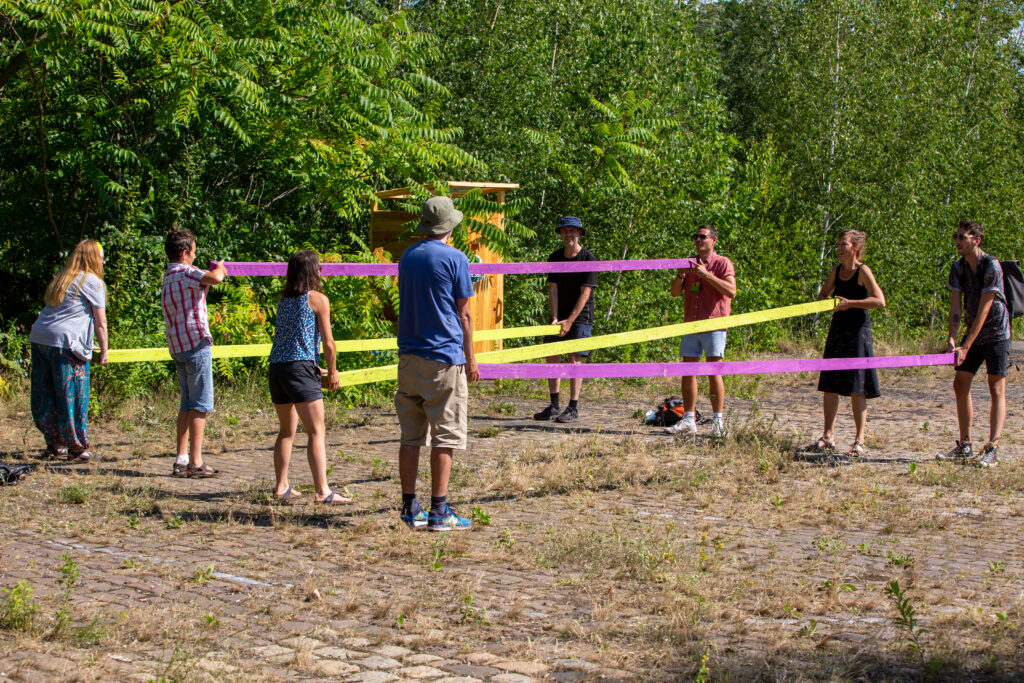 Pictures: Ronny Waleska

This measure is co-financed by tax funds on the basis of the budget passed by the Saxon state parliament. Funded by the European Social Fund ESF under the name ,,Schüler ins Atelier."