Winners of the ideas competition Metamorphose GEH8
The environment of GEH8 is changing. This offers us the chance to realign ourselves. We want to accompany this process of change artistically. Therefore, we called for ideas and concepts from all disciplines, how the metamorphosis of GEH8 from today to 2020 can be documented, reflected, interpreted or illustrated with artistic means.
From the concept proposals submitted from Spain, Holland, the Czech Republic and Germany, the jury chose the following winners:
Annemarie Strümpfler (Bremen)
Since 2015, Annemarie Strümpfler has been working increasingly in relation to space and context according to the principle of the camera obscura. Places in the urban space become walk-in cameras in which sections of the projections on the walls or floor are photographed and developed.
The rooms of GEH8 will also be transformed into a camera obscura at regular intervals during the renovation phase. Additional pinhole cameras record the metamorphosis of GEH8 from different angles in the context of the newly created environment.The results are large- and small-format black-and-white prints on photographic paper, in which the border to painting becomes blurred. They document the construction process as a unique reality and at the same time capture the essence of the change of the GEH8 in a 'photo-painterly' way. At the same time, the camera will also be accessible at certain times, so that it can be visited independently of the production of the results. The visitors thus get a glimpse into the camera, experience the reconstruction quasi as a live-stream and become part of the project themselves, in which they are part of the projection surface in the camera itself. This city-space installation in process thus becomes physically tangible.
Special prize and special mention by the jury:
Niels Post (Rotterdam)
The artist searches for topic-specific spam words on the Internet, which are physically placed on the access road between GEH8 and the school as a work of art. The work serves as a bridge between the two worlds of the school and the art space of GEH8 and supports the rapprochement of the neighbors.
With this work, the jury especially recognizes the attention to metamorphosis beyond the reconstruction. Only with the successful connection of the new neighbors to the GEH8, the process of change is successfully completed. This is also of particular relevance to us because we want to be involved in the artistic education of children and young people in the future.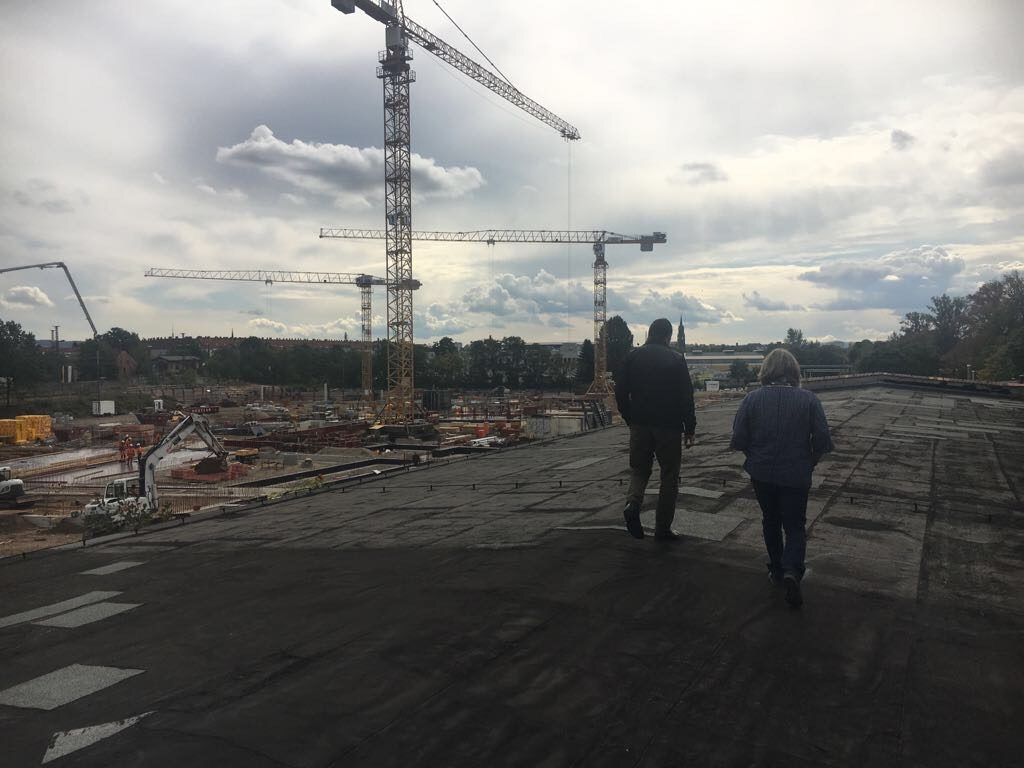 On the roof of GEH8 you get a good view of the current construction situation (award winner Annemarie Strümpfler with GEH8 board member Paul Elsner).