1st Verstärker Art-Film-Festival: Winners announced!
As part of its "Verstärker" program, GEH8 organizes the 1st Art Film Festival and awards the "Verstärker" Award.
On may 10th, the festival presents short film contributions by students from selected art universities in the new federal states.
At this festival the audience decides: Come to the screening and vote for your favorite!
The winners will be honored at a big gala show with live music and after party on Saturday, May 11th.
On May 10, the audience has decided! Here you can find the shortlist and award winners of the 1st amplifier art film award:
1st Place (Verstärker-Award + 300 Euro)
CHRISTOPH BLANKENBURG with DEEP AM RENNSTEIG (17 votes)
2nd Place (100 Euro each)
VINCENT BRIÈRE with BAUHAUS FOREVER (15 votes)
HANNES NAUMANN with WOLFGANG HAUSSMANN (15 votes)
MINHYE CHU with FAIR GROUNDS (15 votes)
Special mention:
SOPHIE ROESER & ANNA BILOUSOVA with BLACK DOG (10 votes)
We want to thank once again all applicants, guests and the whole team. It was a wonderful first movie festival! We are looking forward to the next year …
Here are some pictures from the Festival:
pictures: © pidelta.de

Participants:
Bauhaus-Universität / Weimar:

KONRAD BEHR with BRANDEN
BRANDEN is a spontaneous snapshot based on a poem by Viktor Dallmann. The film transports moments from urban environments back to a place, a production facility that often gives city its character – a concrete plant.
CHRISTOPH BLANKENBURG with DEEP AM RENNSTEIG
What is the emissary from the stars doing in the Thuringian Forest? – Shaken awake by the construction of new roads, cutting paths between concrete births or calibrating. The film shows an approach to the conditions of the earth's surface. We are taken on a short journey along the Rennsteig.

VINCENT BRIÈRE with BAUHAUS FOREVER
Bauhaus Forever features Grrropius, the Bauhaus obsessed international pop star. It is a music video of his first single which presents Grrropius' elegant and confident personality on top of electronic beats. To get more information about his thriving career follow him on social media with @grrropius.

JANO KALTENBACH with ZAHME TIERCHEN
Mirko and Jano want to break into the zoo because their professor has promised them a grade of 1.0 for it. During their spontaneous attempt they encounter some difficulties.

PALOMA LIAMBÍAS with DAS GLEICHE GEWICHT
Equal Weight deals with the question of what remains of a life when there are no documents of memory. With her family, the Chilean artist goes in search of traces in the house of her deceased grandparents in the Andes – and creates with performative and artistic means a poetic-experimental documentary film and a multi-layered medial self-reflection at the same time.

ANIKA MAETZKE with SOCIALUP
Jan is seeing a therapist because he is having trouble interacting socially with his colleagues at work. Somehow everything is always a little too close for him and he also seems to be the only one who feels this way. So I guess he needs to change his ways.

HANNES NAUMANN with WOLFGANG HAUSSMANN
The pensioner and passionate hobby filmmaker Wolfgang Haußmann is well-known in the sleepy spa town of Bad Frankenhausen, at least since he proudly presented his invention in a curious appearance on GDR television: The breaststroke. While the small town celebrates the unusual sport with a self-staged world championship, Haußmann dreams of the big time: "Maybe it will be Olympic one day!"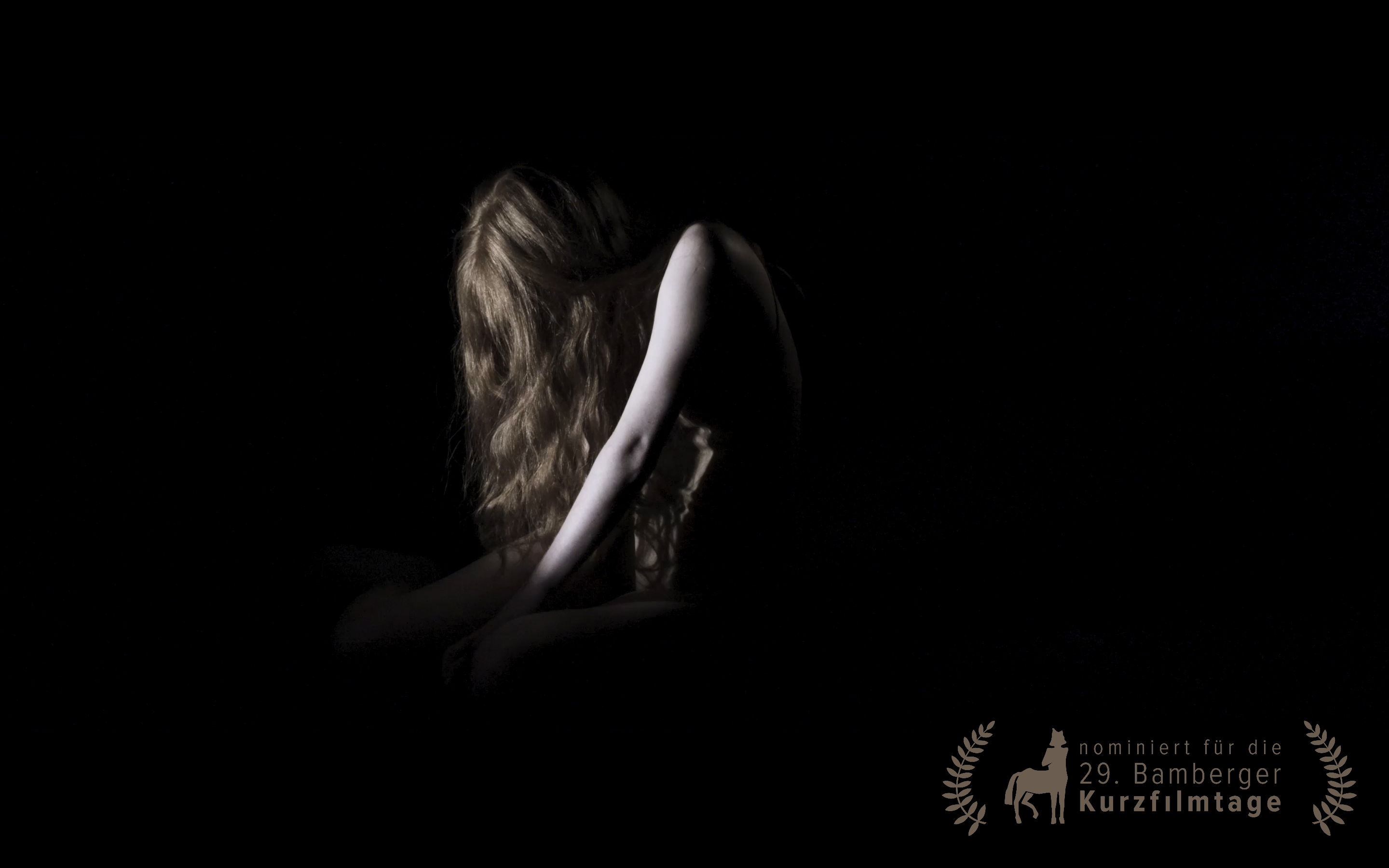 SOPHIE ROESER & ANNA BILOUSOVA with BLACK DOG
A woman is attacked by a big black dog one evening after visiting friends and is threatened to be devoured by it. But this dog is not a real animal. An inner struggle for her survival begins.
Burg Giebichtenstein / Halle (Saale):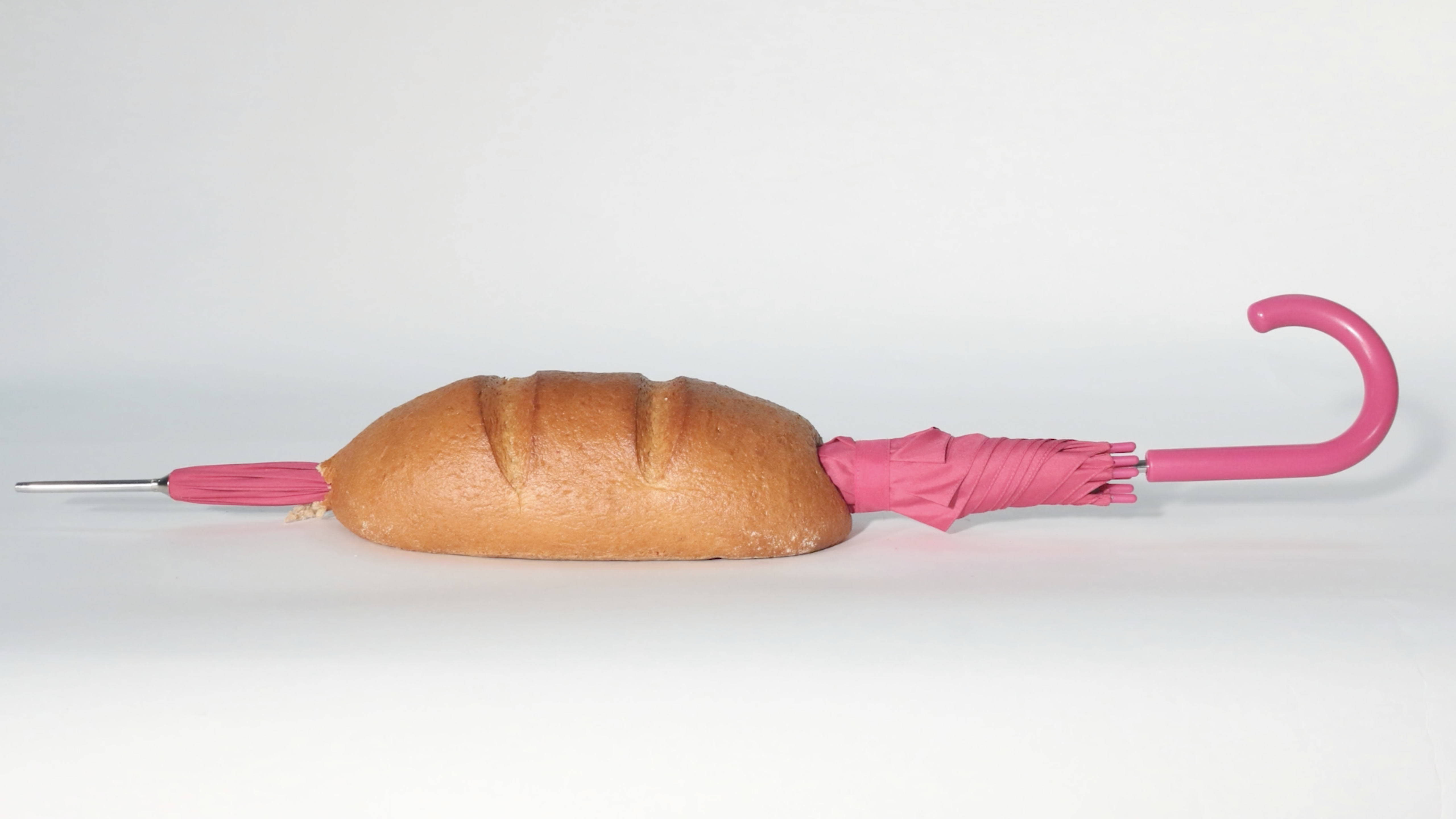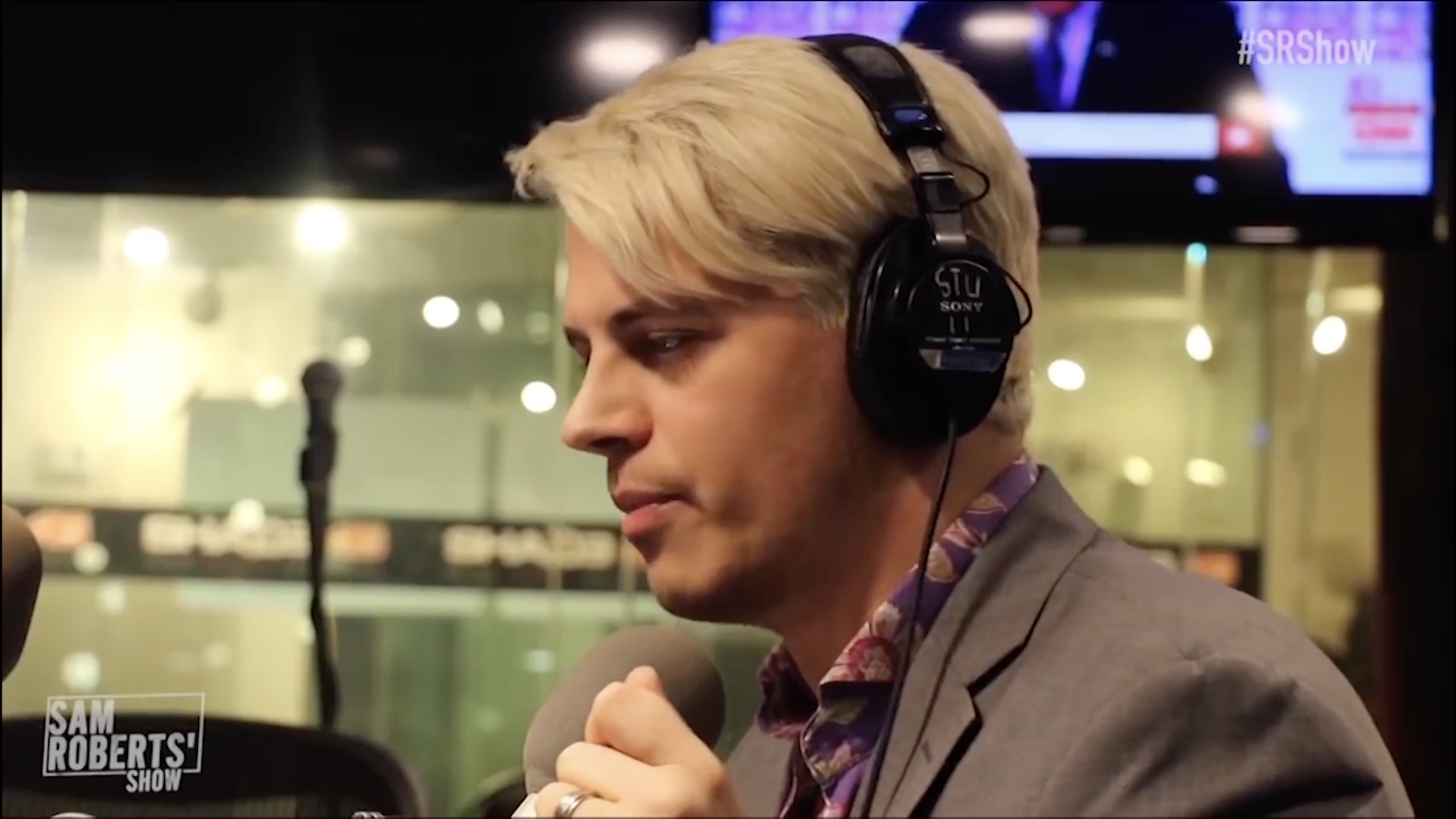 AHRAM CHOI with SUCKSTOBEYOU
I feel like a stranger and I just keep breathing, every day. You'll find something that doesn't fit, but there's nothing you can do about it. Take it for what it is. Will you laugh at my awkwardness?
BINHA HAASE & SARA GLOJNARIĆ with #POPFEM
#popfem deals with anti-feminist movements on YouTube and transforms their statements into their opposite: representatives of these movements quote feminist texts on abortion rights, "rape culture" and internalized sexism. Methodically, we, like our protagonists, remove foreign material from its context and assemble it in such a way that it confirms our own ideology.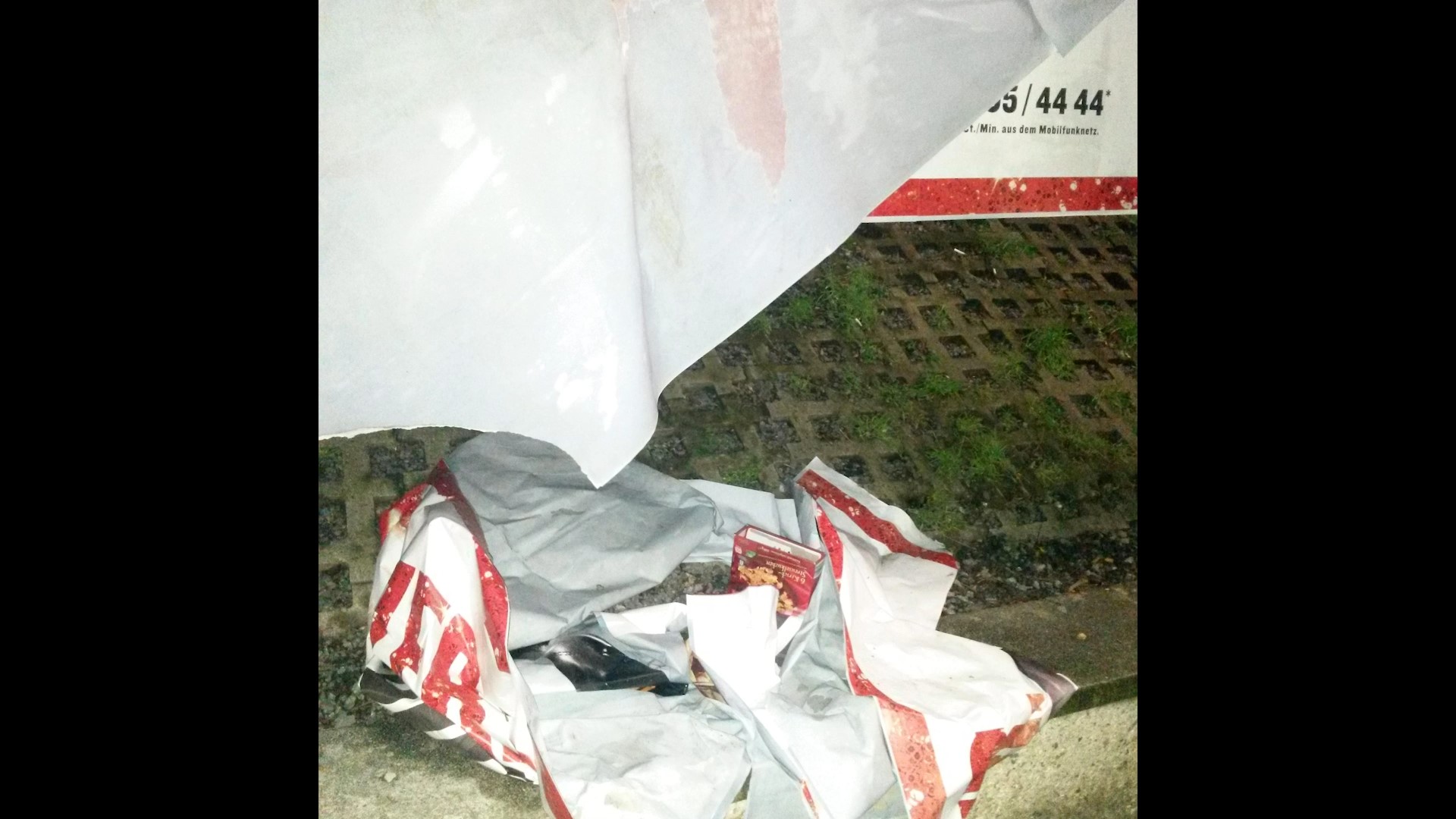 FABIAN HABECKER with FOTOFILM – aus der Reihe Kunstdiskurs aktuell
This 6-minute photo film documents everyday things with a smartphone camera and makes one thing clear: art is a matter of attitude. The narrator's voice persistently sharpens our eye for everyday symbolic worlds and looks beneath the layers of color and levels of meaning. The question arises: how much meaning lies in the interpretation? An educational piece about perception, until the cell phone battery gives up the ghost.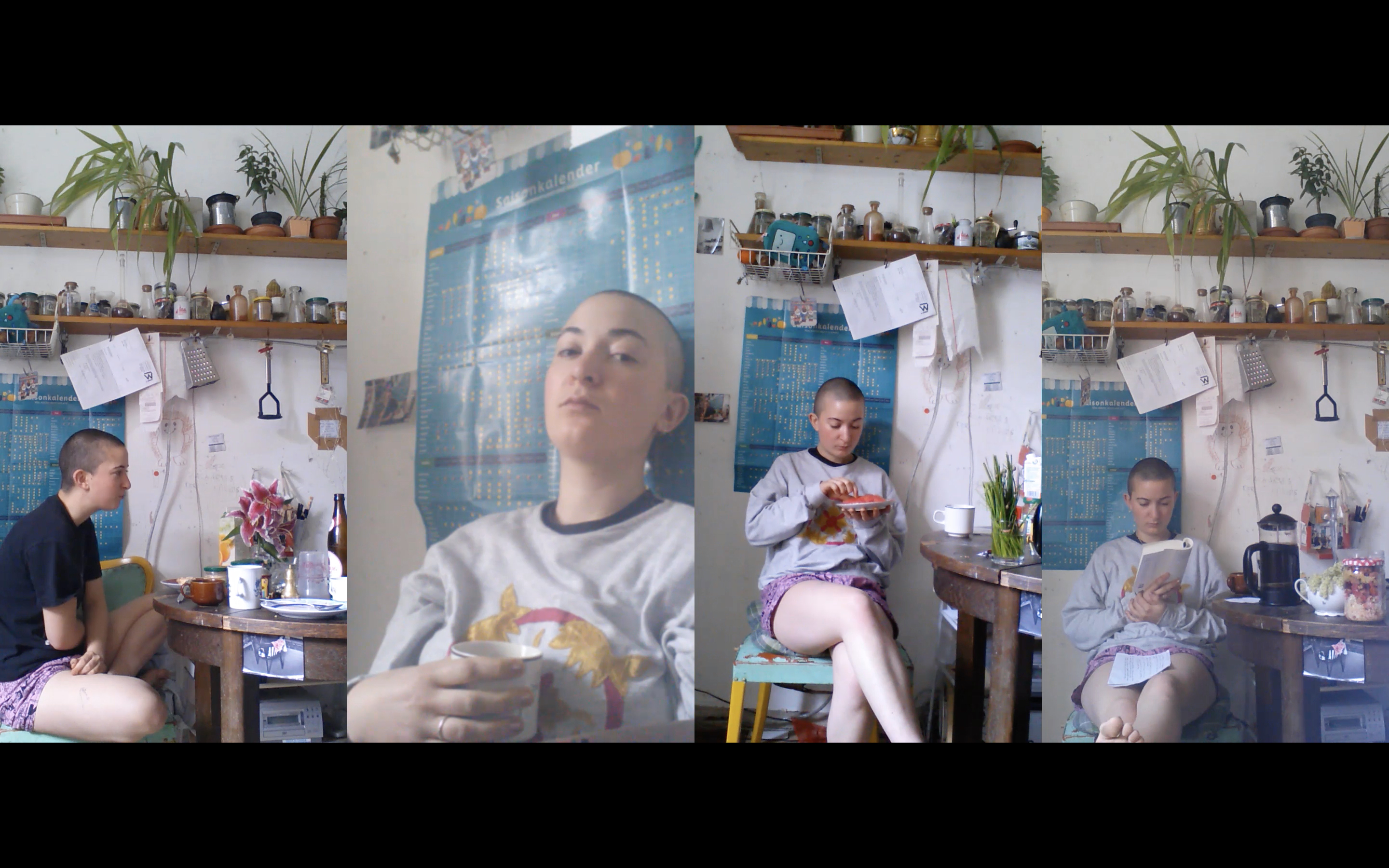 ISABELLE HUCHT with DAILY ROUTINE
Routines are repeated activities and processes; they give rise to everyday life. Routines reduce the number of everyday decisions and thus make everyday life easier. For the video Daily Routine I filmed myself on four days of my daily life with my cell phone camera.


DAN PELED with EINWANDERUNGSVIDEO
Video work doesn't come naturally to me. I'm an analog guy in a digital world. I don't have an eye for photography either. But our world is changing fast and you have to know when it's time to leave the familiar and approach the unknown. This is my immigration video.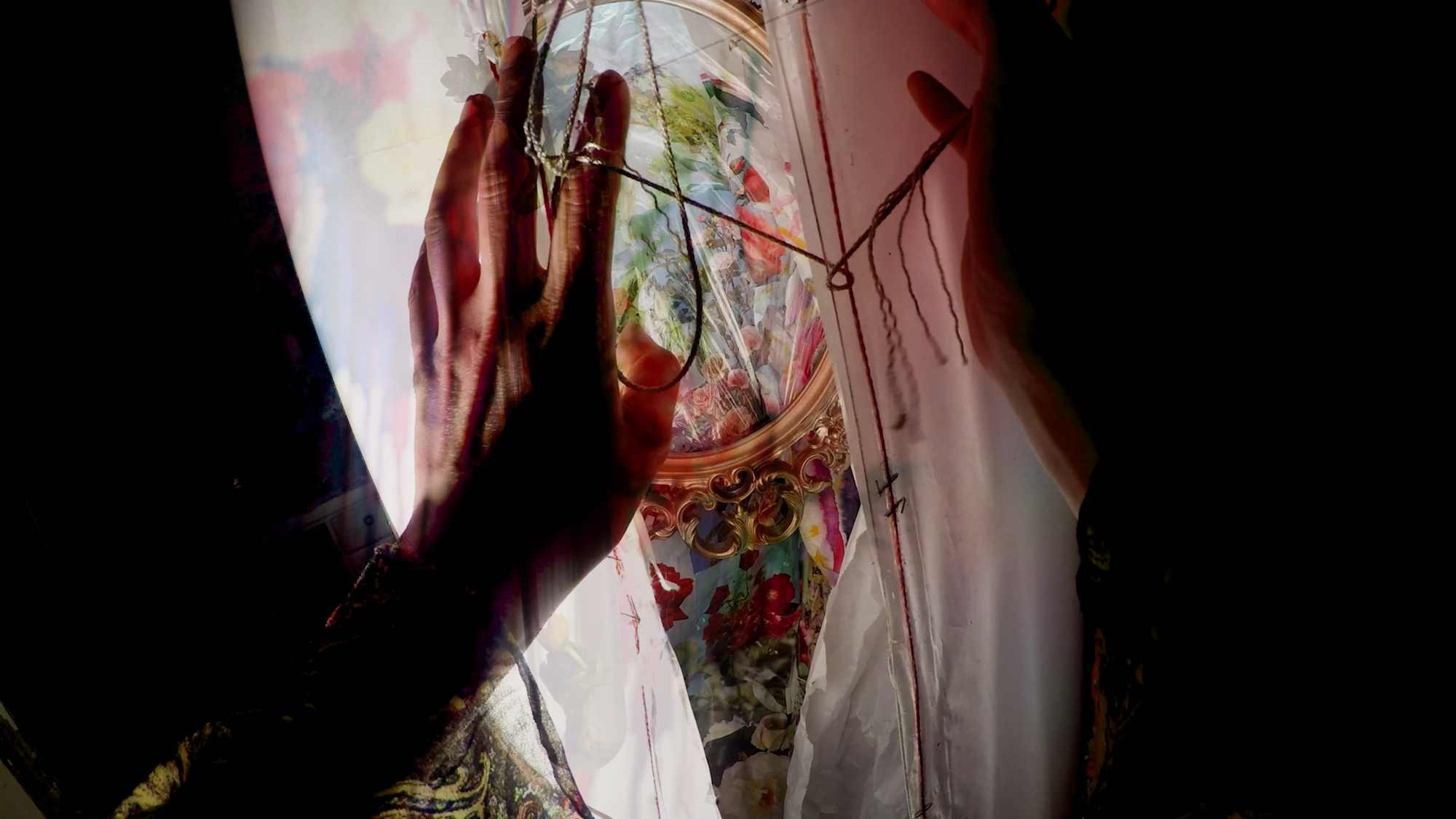 NATALIA SHUMSKAYA with KALEIDOSKOP
In a journey through the tunnel of mirrors, a crystal play appears at the end of the light through multiplication, consisting of infinite patterns. This pattern can be imagined metaphorically as a fairy tale. In every mirror journey a secret is hidden. During the journey one sinks into it, with the possibility to develop a language oneself to follow the fairy tale.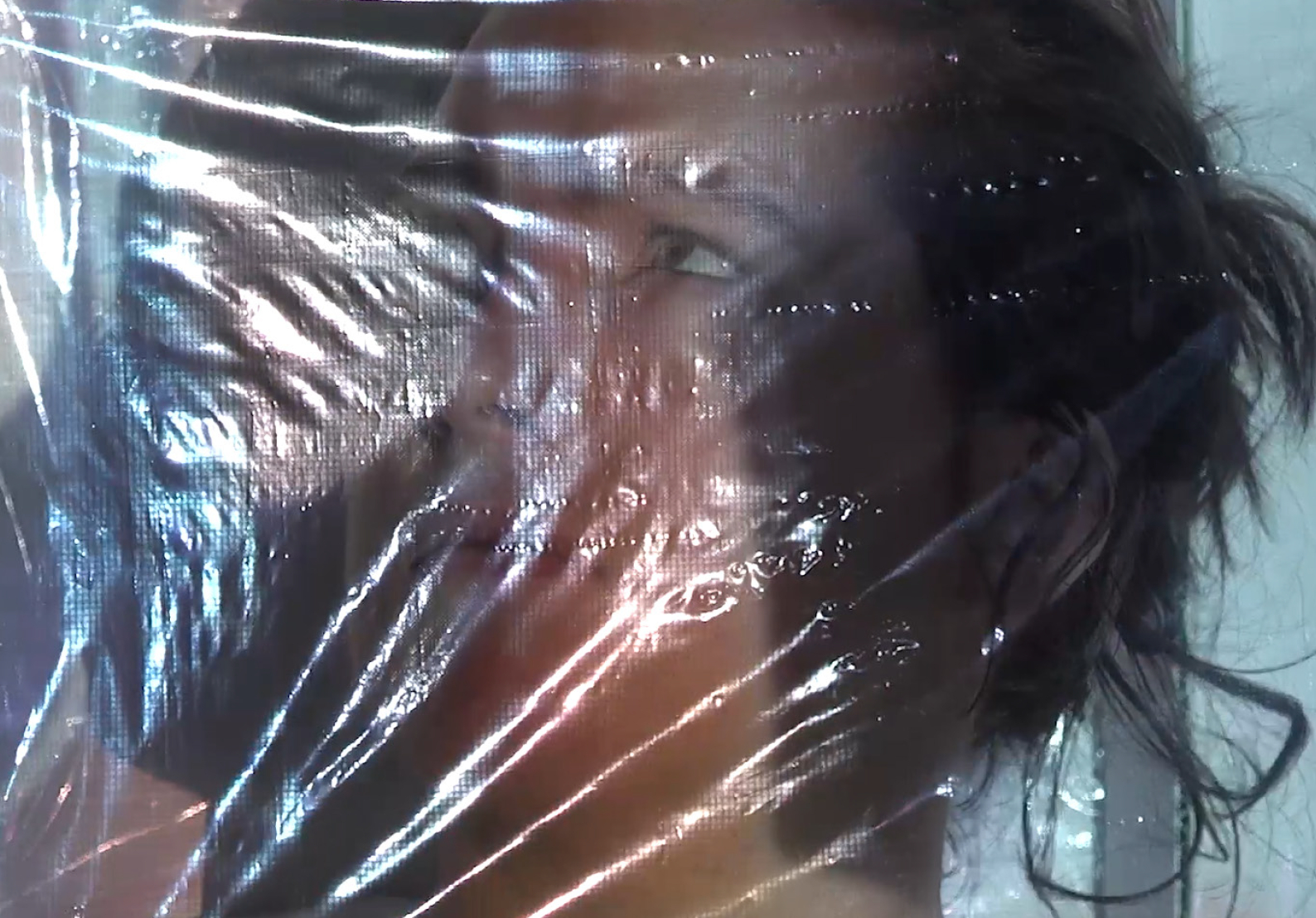 JENNY WAGNER with NORMALITÄT
Jenny Wagner's work "Normality" examines the social norms and stereotypes that surround us like an invisible prison. Biological gender decides the color of baby clothes as well as job prospects and whether we are rich or poor with statistical precision. Is it possible to break out of the patterns of this social normality?


FLORIAN WENDLER with DER GNEIS VON OSTERMUNZEL
The process of removing a stone from its original environment and setting it up again in a different place can be traced back to the earliest times of mankind. It was an expression of religious-magical experience and at the same time a first defiant attempt of rebellion against a world that, like the stone, is hard and strange and unavailable. The film "The Gneiss of Ostermunzel" translates this archaic process into our modern world. We see an erratic boulder weighing 30 tons, placed in thick iron chains it is lifted out of a hole by a crane, centimeter by centimeter it rises, then floats above the earth for a while. He invites us to float with him, into a magical dream world, until an applause pulls us out, sends us back to reality, where all the sublimity of matter dissolves, into an absurd spectacle of human power.
HfBK / Dresden: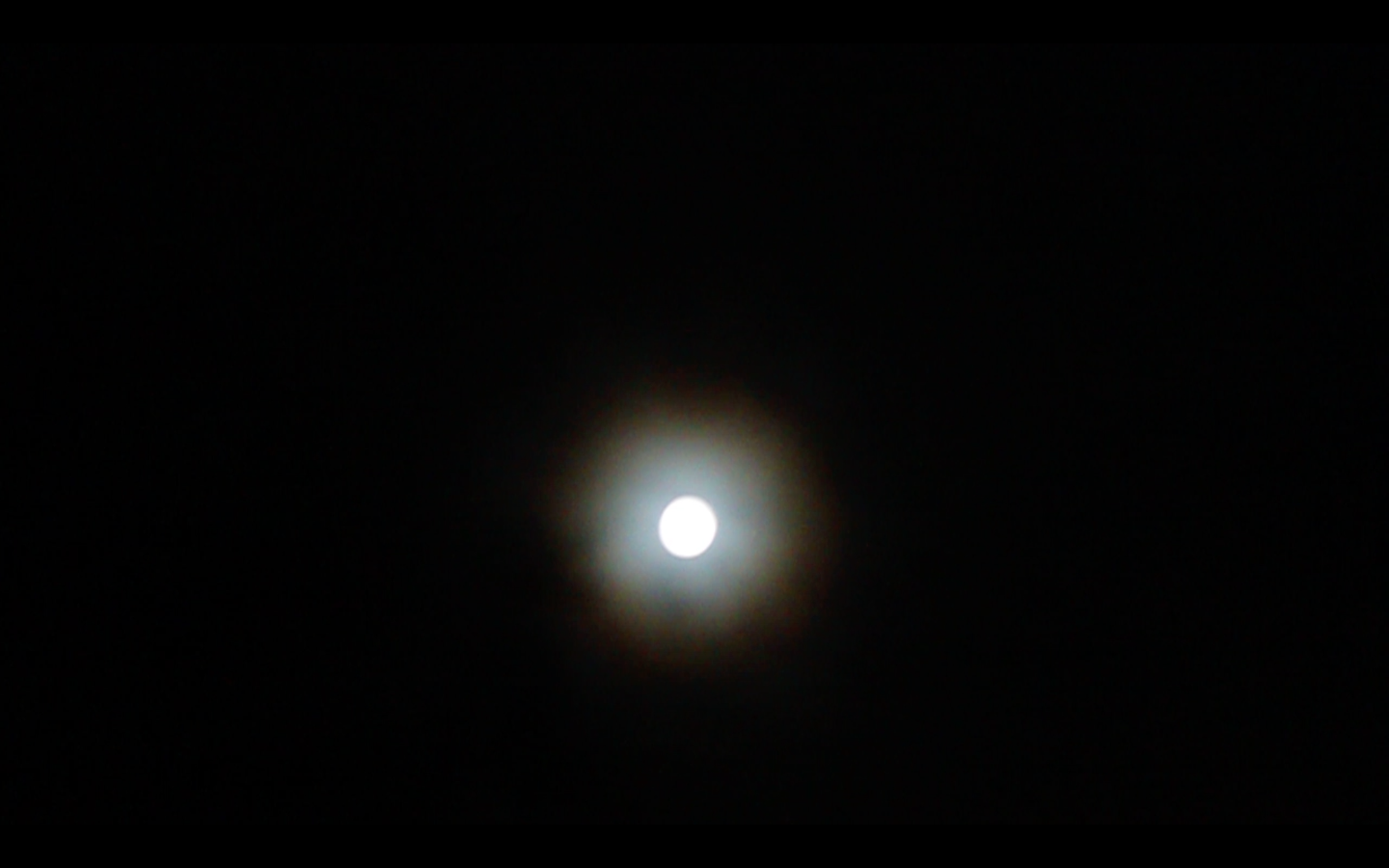 MIRIAM KROKER with "THE PERFORMANCE OF THE MOON"
"The Performance of the Moon" is the Performance of the Moon.
HGB / Leipzig: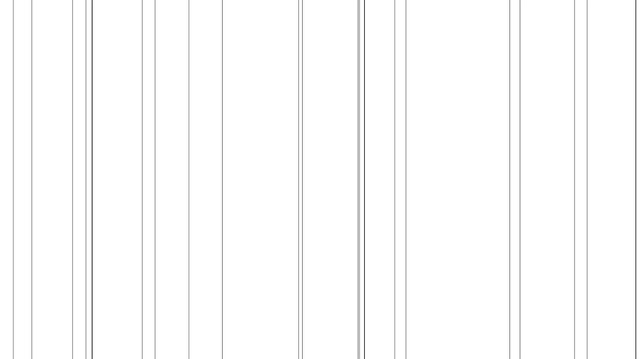 BERNHARD BORMANN with DIE KOMISCHEN ACKERBAUERN GRABEN DIE LUSTIGEN IGEL AUS
The experimental film "The funny farmers dig up the funny hedgehogs." is an attempt to pick up the viewer at the limits of imagination. To this end, the film works visually in various directions – does the viewer dabble in the title? Does he concentrate on the play of images? Does he fixate on an area? On the audio level, the film opens up to the cinema hall, as the rustling of the neighbor or the coughing in a corner of the room becomes both a subjective experience and an intervention in the film for all the guests in the room.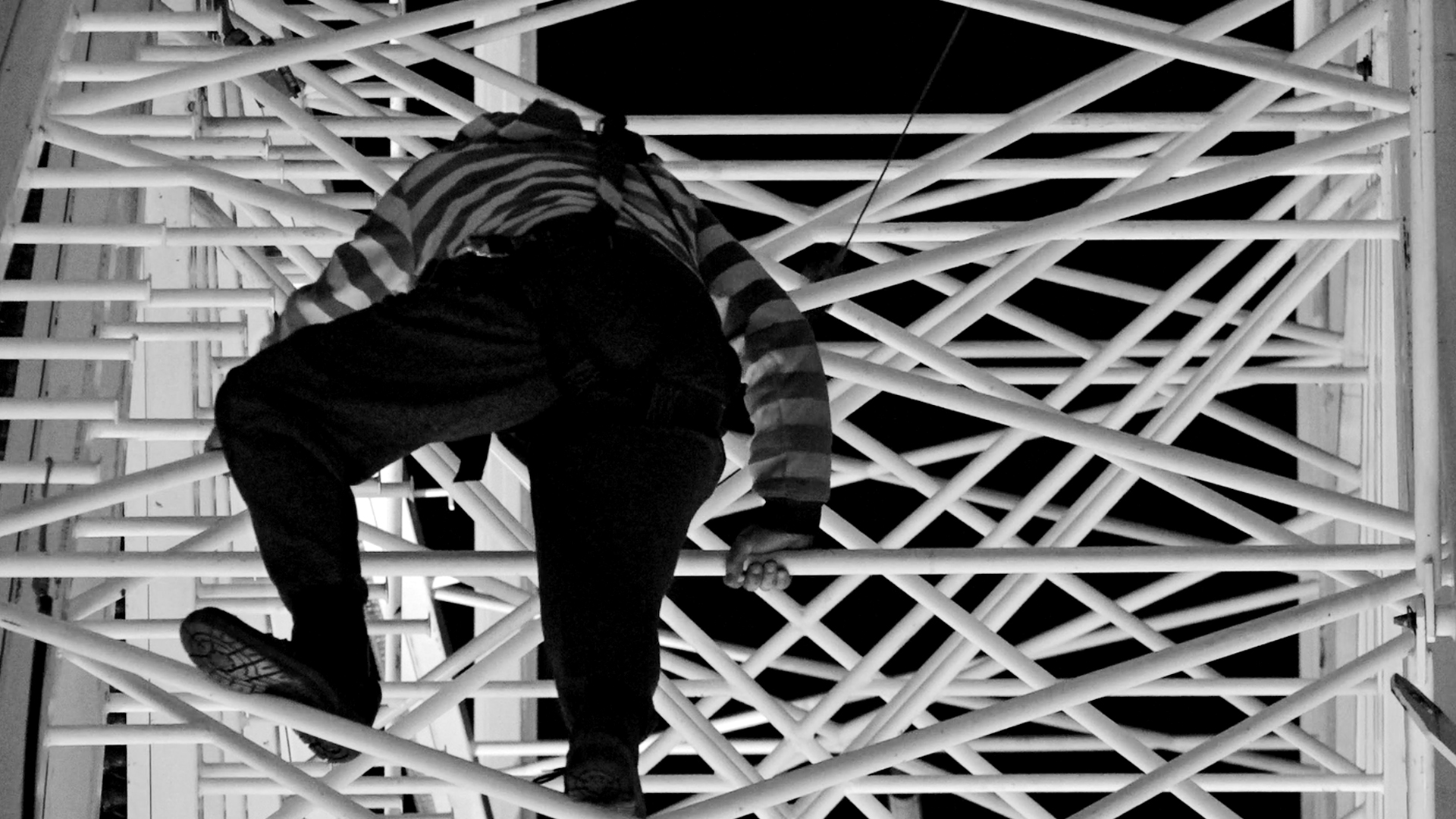 MINHYE CHU with FAIR GROUNDS
The film focuses on a worker who disassembles a metal structure. During the actions at great heights, the worker puts his body at risk and is permanently endangered. The realistic sounds of the film footage were edited and arranged to create a rhythmic score. As a result, the worker seems to float in space between the white metal bars while performing a choreography.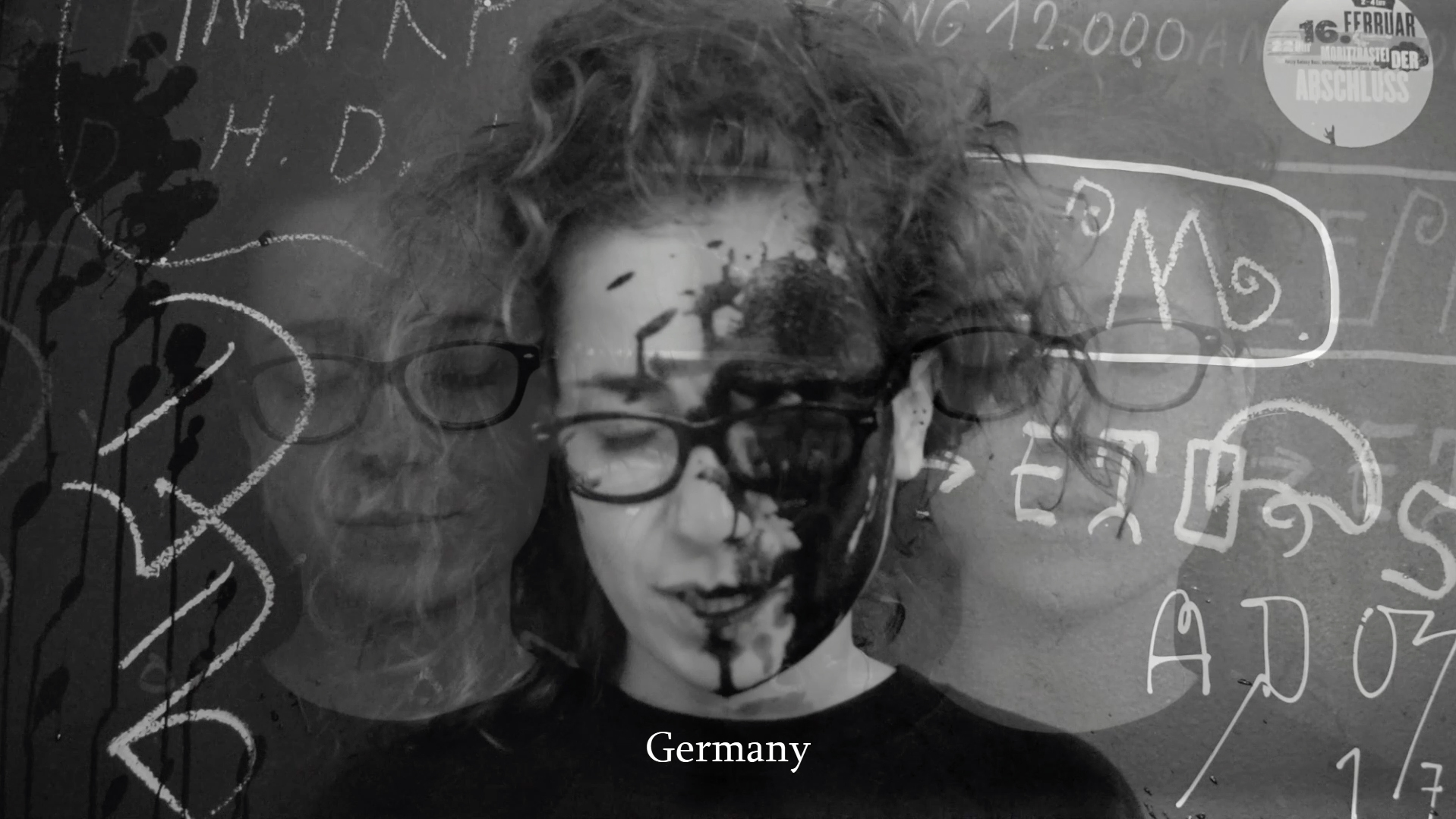 RAWAN HASSAN with SCHWARZ ODER WEISS?
I describe in the video in my method my feelings and emotions since I fled to Germany. As an artist … as a woman and of course as a refugee here!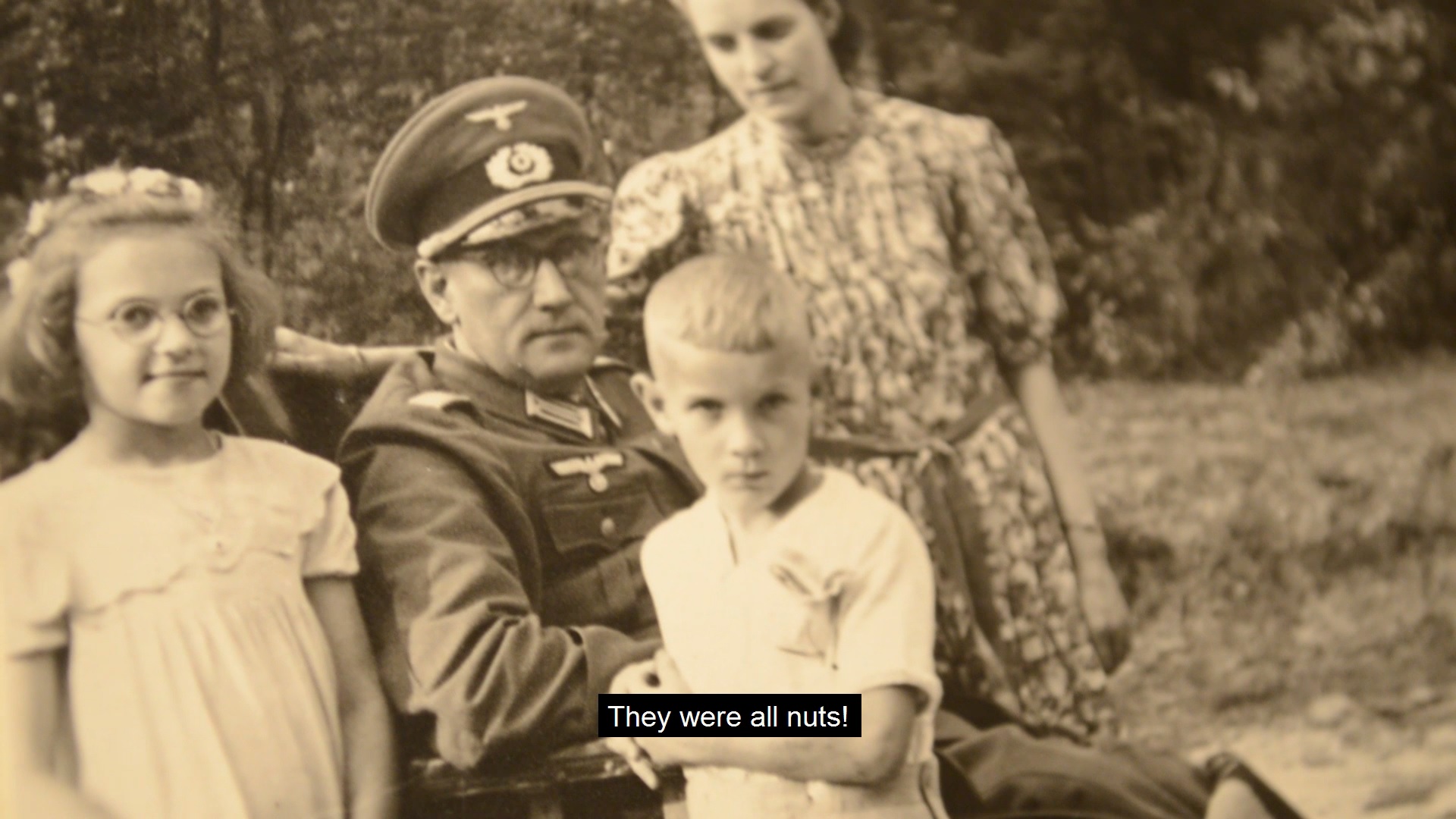 SUSANNE KONTNY with DAS GANZE VOLK
Christmas 2018. My grandfather tells about his father.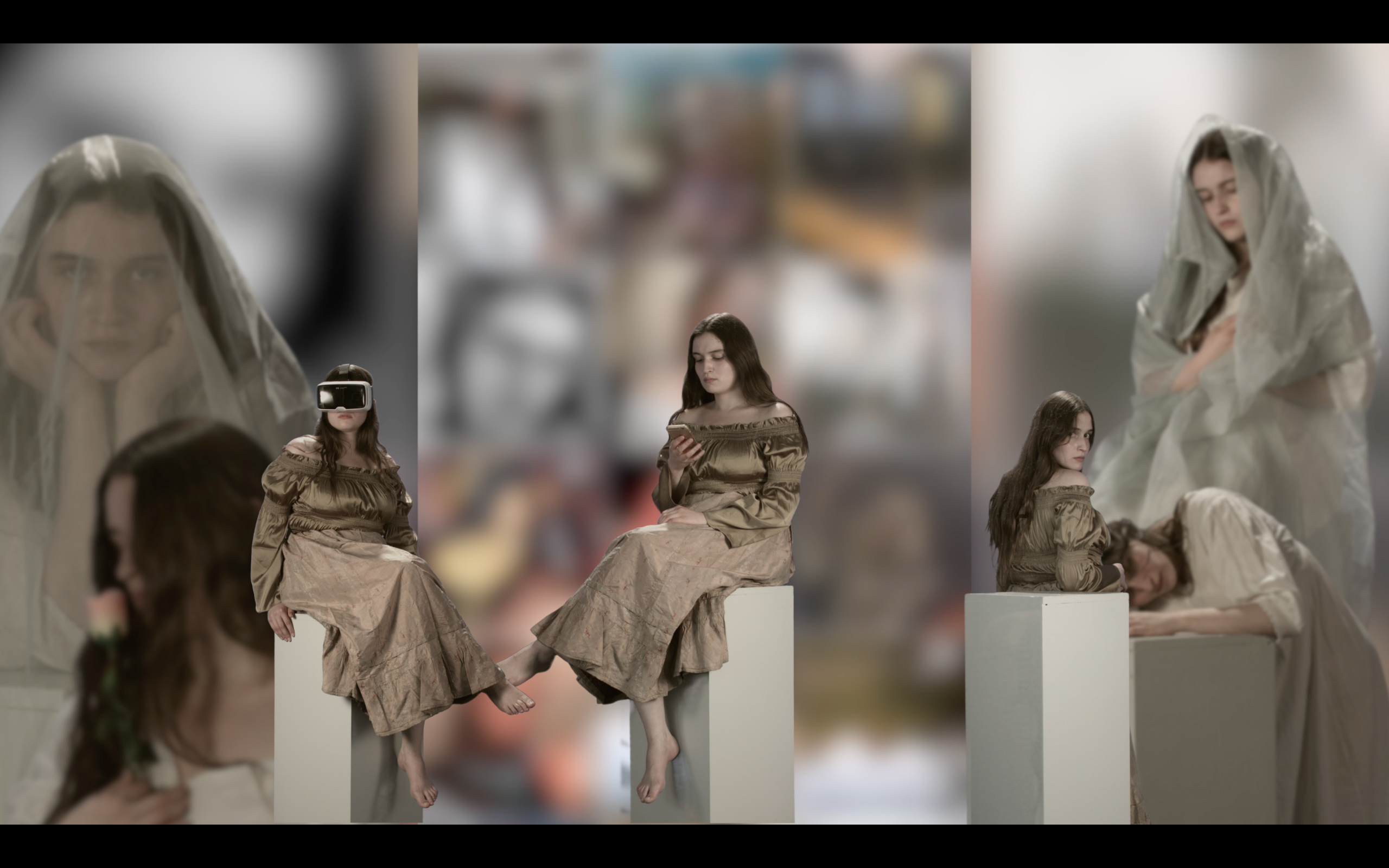 HELENA KÜHNEMANN with SELBST OHNE AUSSEN
What remains when everything disappears? The film Selbst Ohne Aussen examines these realities of different worlds of staging. The desire to deliver a perfect image awakens the pose. Viewers become viewers, movements pause and become the non-moving. What perhaps remains is a subject transformed into a giant surface, an alienated image feedback in the echo chamber of virtual reality.Meanwhile, it seems as if the mirror has become entangled in the mirror, with the fate of the image remaining only a small detail. The film accompanies a character through these staged worlds, mixing narratives of the subconscious with a dream-like imagery. A presence thus settles in for the long haul.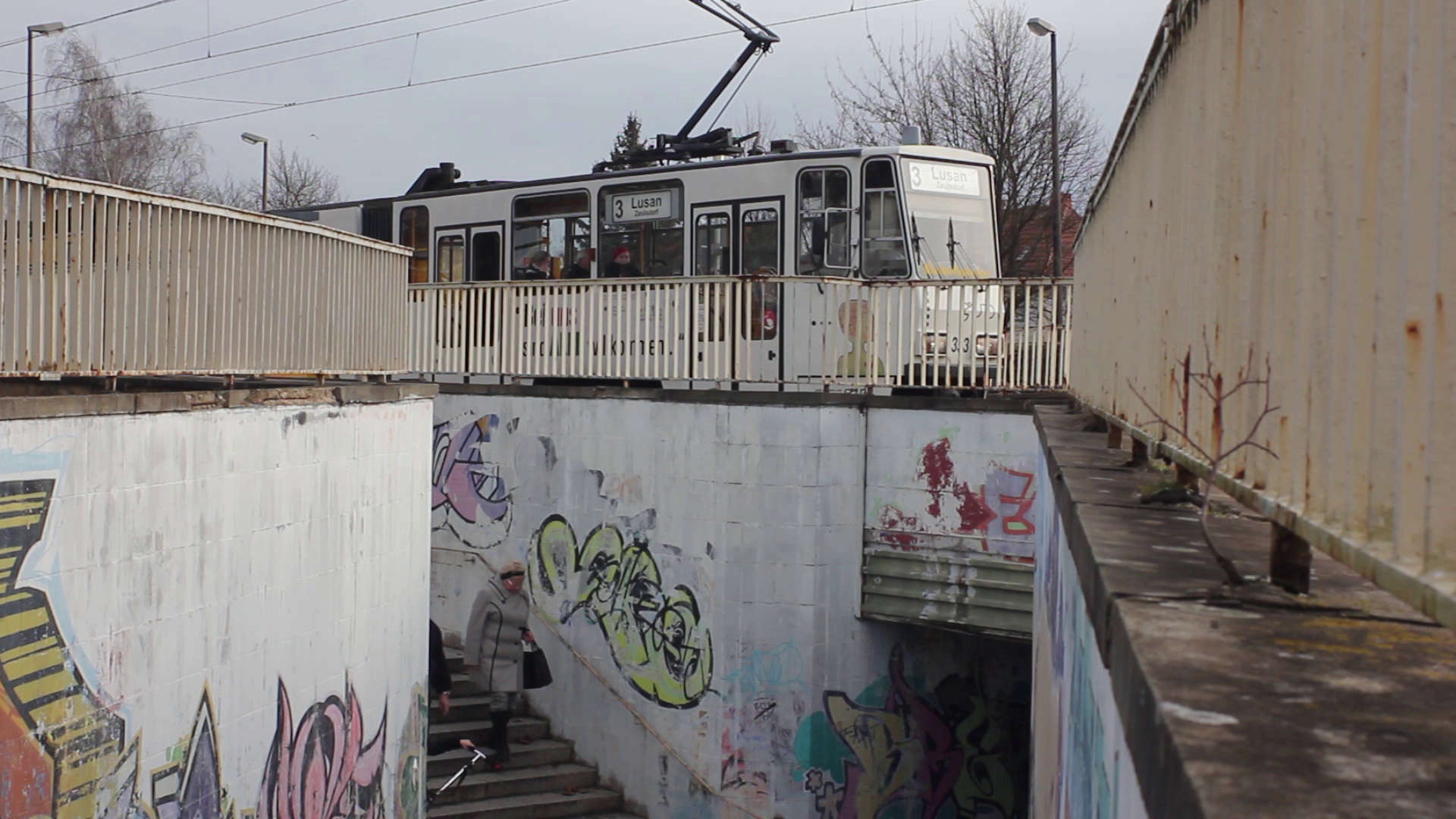 CHRISTOPH LIEPACH with NEHMEN SIE DIE TREPPE
A short essay about transient, meaningless, one-sidedly used similar places. "To walk is to miss the place." (De Certeau 1980, 197) In passing, in everyday life, there remains little occasion for approach other than use. Three spaces in the form of underpasses tell their everyday, repetitive story. At peak times, otherwise rather weakly frequented.
BEATRICE MOUMDJIAN with SACHSTANDSDOKUMENTATION (Nr. 0617 – 0918)
Sachstandsdokumentation is an ongoing episodic film series. The protagonist with her cardboard surveillance camera hat moves through Sofia, Leipzig and Berlin, interacting with architecture, urban surveillance systems and political and cultural sites of power. The Hague will be the conclusion of the exploration.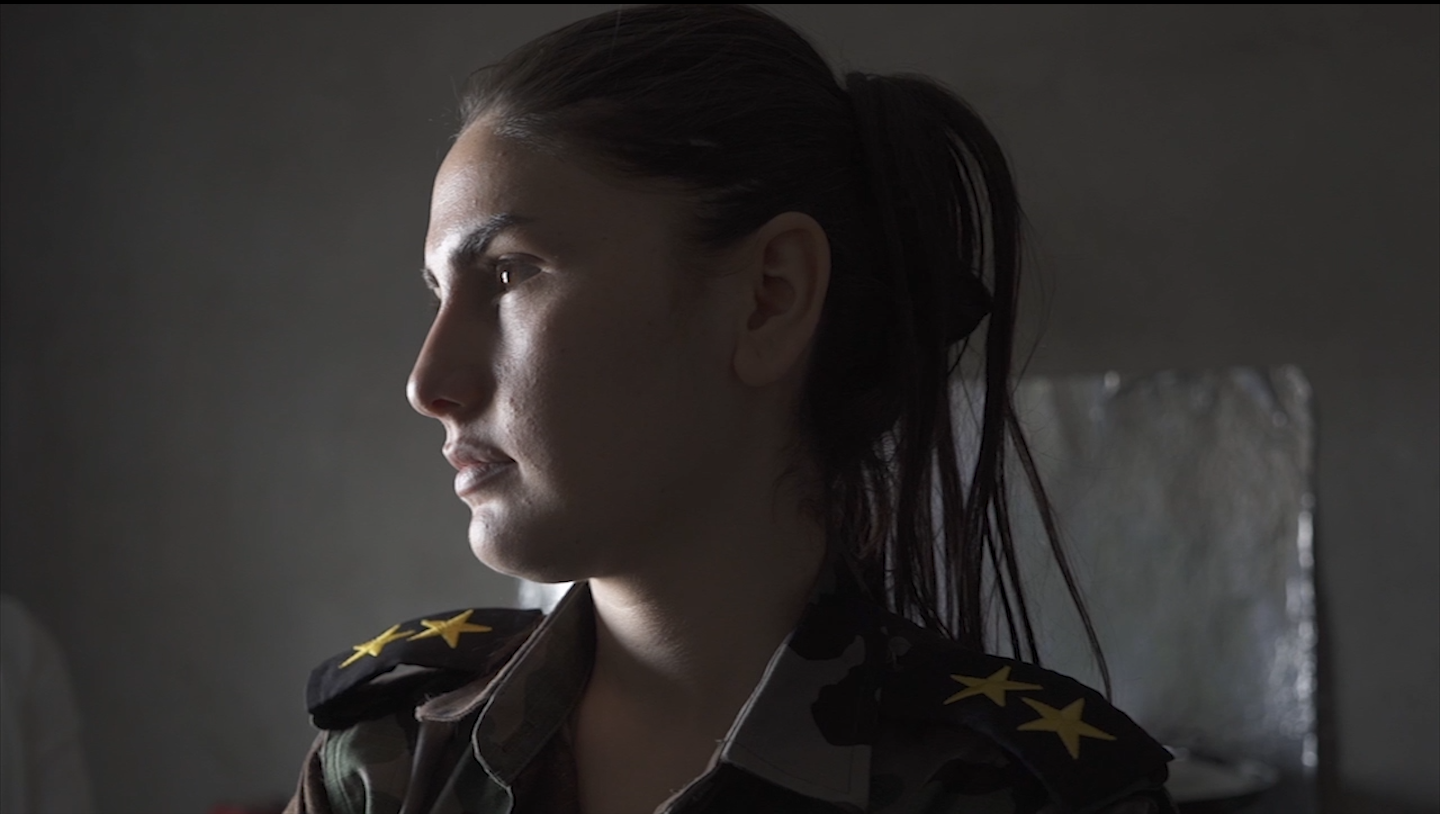 KATHARINA NESTEROWA with SCHWESTER MILA
Kunsthochschule Weißensee / Berlin: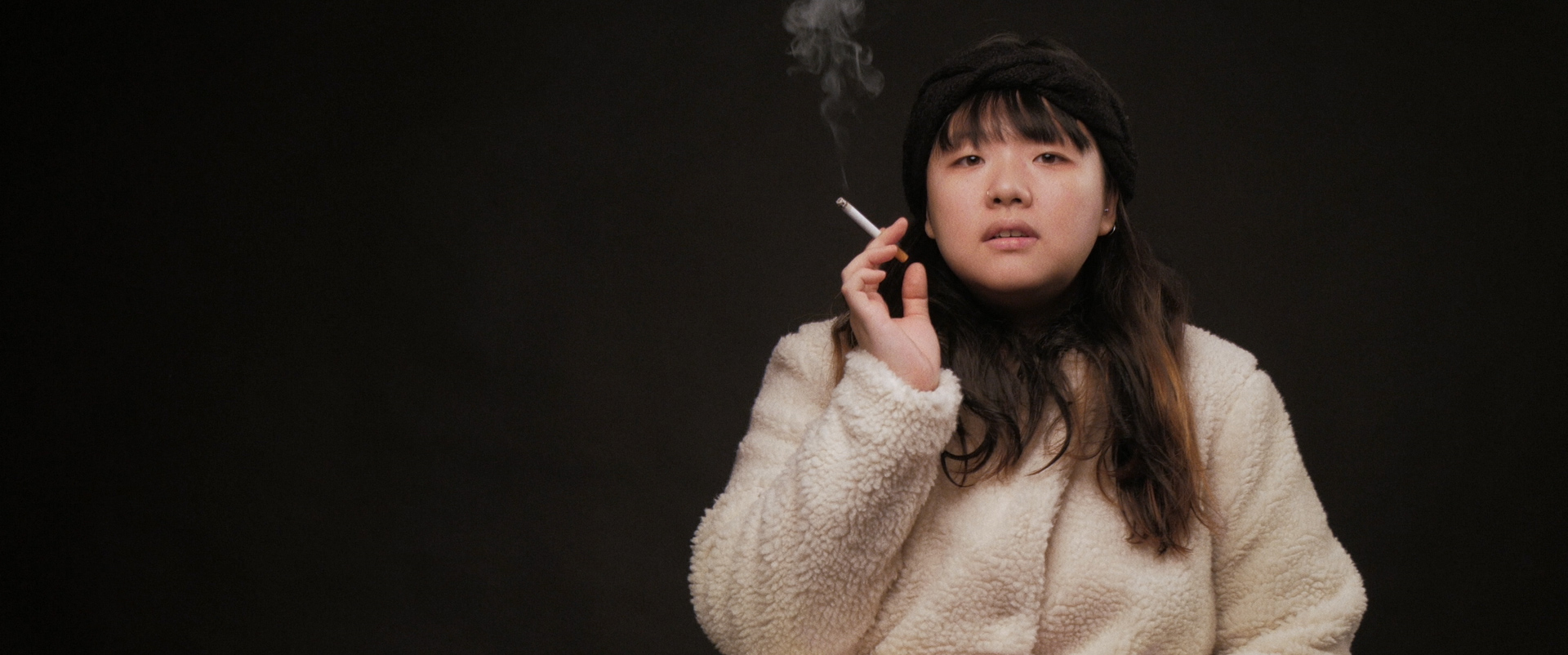 FREDERIK BÖSING with SMOKERS
"Smokers" is an experimental short documentary, based on the "Screentest" series by Andy Warhol. Several smokers were asked to smoke a cigarette in front of the camera – alone and without direction. The camera becomes an object of communication and the participants have to relate to it. Through the inner conflict and the confrontation with oneself, intimate portraits emerge that reflect on how we deal with our weaknesses and vices.