Curators Exchange Programme 2018 between Wrocław [PL] and Dresden [DE]
The first participants of the Curators Exchange Programme 2018 (Wrocław/Dresden) are announced!
(This post is only available in german so far)
OPEN CALL
In cooperation with GEH8 Art Space and Studios in Dresden and the City of Dresden Office, the Culture Zone Wrocław, within the framework of the Artist In Residence Programme AIR WRO, calls for applications for a residency in Wrocław for curators of contemporary art from Dresden, Germany. The grant will be given with the support of the two sister cities – Dresden and Wrocław. The curator will be living and working close to the city centre in Wrocław and will be closely connected to the location and the network of the Culture Zone Wrocław institution, which is a former European Capital of Culture organiser. The grant is a part of an exchange programme, which in April 2018 will offer a similar residency in Dresden to a curator coming from Wrocław.
AIR WRO is a legacy programme of the European Capital of Culture Wrocław 2016. Its main purpose is to support mobility, and promote activities of art and culture professionals based in Wrocław and Lower Silesia, who are interested in strengthening international cultural relations.
GEH8 Art Space and Studios is a dynamic space of art production and its presentation. It was founded in 2007 as an artist initiative in Dresden in a former railway-container-terminal. Since then the location has developed to an important size in the Dresden contemporary art-scene with ongoing projects within a growing international network of contacts.
Aim:
– The grant is for curators, who work in the field of contemporary art or for curating contemporary artists from Dresden;
– The grant is created to give an insight into the Wrocław contemporary art scene and as well to get into contact with art institutions and professionals in Wrocław;
– The grant aims to create a project, an exhibition or another adequate form of presentation for contemporary art, media art and film. The project should presumably be displayed in GEH8 in Dresden between April and June 2019;
– Connections to urban culture, dance, experimental music, media theory, participatory and/or process orientated approaches are particularly requested.
What do we offer:
– One month residency in Wrocław, Poland;
– Time frame: May 2018;
– An apartment in Wrocław;
– Fee in the amount of 500,- Euro;
– Fixed rate of 200,- Euro for travel expanses / material costs.
Requirements:
– Curators:
should hold a degree in art history, media history or media theory, cultural or film sciences and should prove practical curatorial experiences;
– Artists:
should hold a degree in fine arts, media art and/or film and should prove practical curatorial experiences;
– Place of residence: Dresden;
– Knowledge of English language is essential.
Application documents:
The application shall consist of CV with professional career (max. 1 page DIN A4), documentation materials of the previous curatorial practice, motivation letter with a specification of the planned project (max. 1-2 pages DIN A4), all prepared in English.
All materials combined as PDF with links and necessary passwords for online videos
(size: max. 10 MB / DIN A4) should be sent via e-mail to air@geh8.de.
Deadline is the 25th of January 2018.
Selection and decision process:
A jury of members of GEH8 Art Space and Studios and the Cultural Department of the City of Dresden examines all received applications, and will select up to five applicants onto a shortlist, which will be suggested to the cooperation partners of the City of Wrocław. The final decision is made in early February by a bilateral jury of both cooperation partners and the results will be published online until the 15th of February 2018.
Contact:
GEH8
Paul Elsner – air@geh8.de
AIR WRO
Krzysztof Bielaszka – krzysztof.bielaszka@strefakultury.pl
Berenika Nikodemska – berenika.nikodemska@strefakultury.pl
This awaits you in Wroclaw: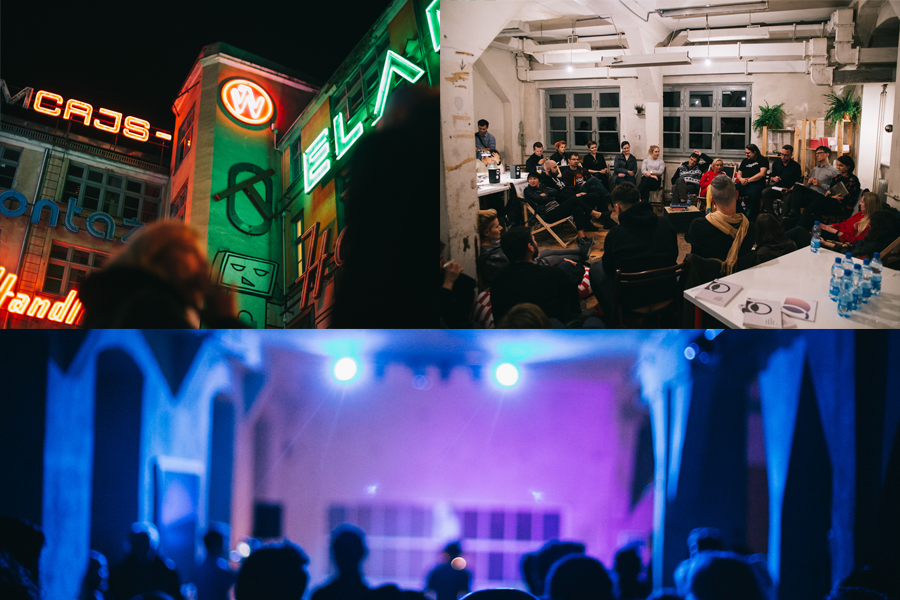 Pictures: Jerzy Wypych / AIR WRO
The programme is kindly supported by: